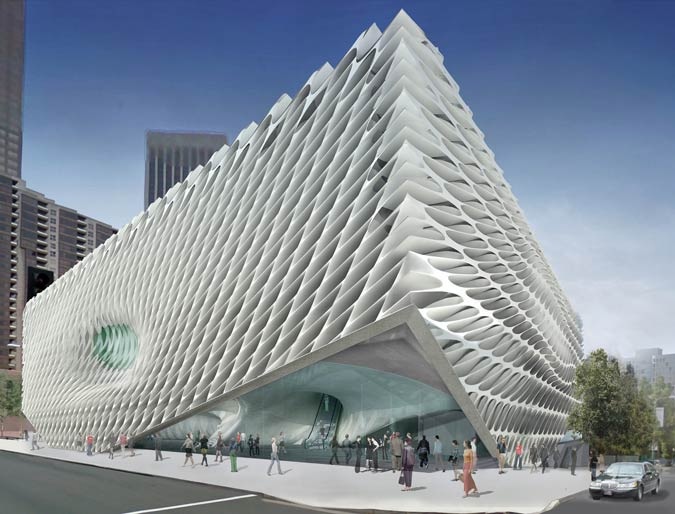 In fittingly dramatic fashion, philanthropists Eli and Edythe Broad today unveiled designs for their long-awaited, $130 million museum on Grand Avenue in Downtown Los Angeles. The project, designed by New York architects Diller Scofidio + Renfro, is both boisterous and restrained, and has the capacity to help transform a street that has long attempted, and largely failed, to be a vibrant cultural hub for the city. It will be home to the Broad's collection of over 2,000 contemporary artworks, as well as to the offices of the Broad Foundation.
"We're convinced that Grand Avenue is where it's at," said Broad, who has played a significant role in much of the street's distinctive architecture, including Coop Himmelb(l)au's High School #9, Arata Isozaki's MOCA, and of course Disney Hall.
DS+R, well known for its work on New York's High Line and Alice Tully Hall, and Boston's Institute for Contemporary Art, among other influential projects, has created a design that in many ways—but not all—embraces Downtown LA, adding visual energy and inviting people in.
The three-story, 120,000 square foot building is essentially a traditional steel-framed box wrapped in what the firm calls the  "veil," an arresting honeycomb of interconnecting structural concrete trapezoids. The veil, pointed out DS+R's Elizabeth Diller, will allow passersby to get glimpses inside the building, while allowing art viewers to peek outside. The veil's design originated, added Diller, as a response to the highly expressive Disney Hall, which is next to the new building. While Disney is shiny and solid, The Broad, as the new museum will be called, will be porous and cellular. She said the firm looked at sponges and lava stones for inspiration.